Article successfully added.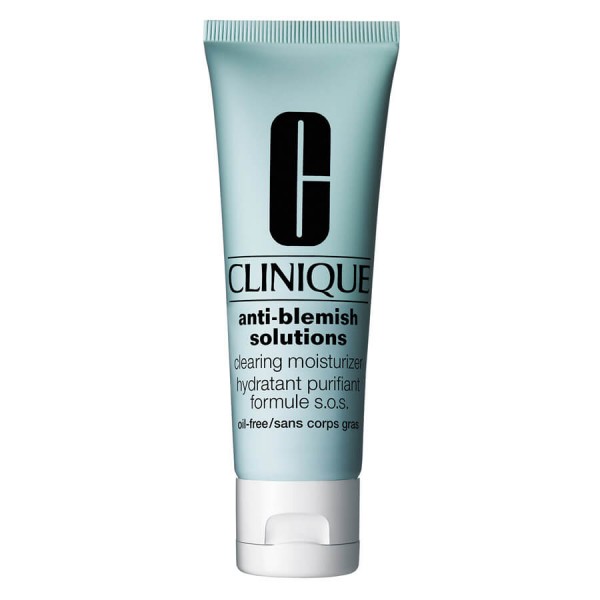 CHF32.00 *
CHF40.00 *
(20% saved)
Prices incl. VAT plus shipping costs
Ready to ship today,
Delivery time appr. 1-3 workdays
Step 3 in Clinique's Anti-Blemish Solutions Clear Skin System. Lightweight, medicated formula....
more
"Anti-Blemish Solutions - All-Over Clearing Treatment"
Step 3 in Clinique's Anti-Blemish Solutions Clear Skin System. Lightweight, medicated formula. Helps control excess oil. Calms, soothes, visibly reduces redness. Lightly hydrates to minimize dryness and peeling.
Directions of use
Apply thin layer to face AM and PM.If drying or peeling occurs, reduce usage. For best results, use after Acne Solutions Cleansing Foam and Clarifying Lotion.After acne clears, continue using for preventative care.
Result
Calms, soothes, visibly reduces redness. Lightly hydrates to minimize dryness and peeling.Trust the system: In a two-week clinical test, 96% of participants using all 3 steps-Acne Solutions Cleansing Foam, Clarifying Lotion and Clearing Moisturizer-showed a reduction in active blemishes.
Related links to "Anti-Blemish Solutions - All-Over Clearing Treatment"
Read, write and discuss reviews...
more
Customer evaluation for "Anti-Blemish Solutions - All-Over Clearing Treatment"
From:
Sandra
On:
3 May 2020
Tolles Produkt
Ich verwende das Produkt seit ca. 4 Wochen morgens und abends nach der Reinigung. Ich habe Mischhaut / ölige Haut die zu Unreinheiten neigt. Die Creme ist sehr angenehm, zieht sofort ein und hinterlässt keinen Film auf der Haut. Zu Beginn hat sich meine Haut verschlechtert. Dennoch habe ich das Produkt weiterverwendet und nach ca. 2 Wochen wurde meine Haut immer besser -> weniger ölige Haut und meine Unreinheiten sind fast alle weg. Ich bin sehr zufrieden. Hinweis: Ich verwende zusätzlich noch aus der gleichen Clinique Reihe den Cleansing Foam und die Clarifying Lotion.
From:
Boschung J.
On:
28 Jul 2018
Clinique
Clinique bietet mit dieser Linie tolle Produkte für unreine Haut. Es braucht aber auch Geduld. Man darf keine Wunderheilung erwarten. Über längeren Zeitraum angewendet wirkt es aber super.
From:
Lara Weiss
On:
28 Feb 2018
From:
Teresa Wasem
On:
24 Feb 2018
Weil ich es schon immer mal ausprobieren wollte!
From:
voirol
On:
31 Jan 2018
la nouvelle crème pour l'acné des adultes, c'est super d'avoir penser a nous plus agé
From:
Ingrid koller
On:
30 Jan 2018
Weil es einfach super ist
From:
Jennifer Jäger
On:
30 Jan 2018
Reinigt gründlich, weniger fettige Haut
From:
Gassmann Claudia
On:
30 Jan 2018
From:
Tania Liechti
On:
30 Jan 2018
Beste Pflege für die Haut!
Folgende Infos zum Hersteller sind verfübar......
more
Clinique
Clinique: 7,200 tests for each product
Clinique is one of the best-known brands in the world for high-quality makeup and skincare products. The Clinique range includes cosmetic products for eyes, face and lips; makeup brushes and accessories; as well as numerous Clinique skincare products for every skin type. And each individual Clinique product is tested 7,200 times before being released to the market. If an allergic reaction occurs, the product is revised. As a result, Clinique products are also well-suited to sensitive skin.
The Vogue article
If the story is true, Clinique can trace its roots back to 1967, when an article was published in American Vogue, which led to a lively discussion about whether the skin's condition could actually be improved by a thorough cleansing with Clinique products. The authors of the article were editor Carol Phillips and dermatologist Dr. Orentreich. Evelyn Lauder, sister-in-law of Estée Lauder, pursued the idea further. She initiated an intensive exchange of ideas with the article's two authors, and it was on the basis of this collaboration that the Clinique brand was created in 1968.
Clinique: developed by dermatologists
Clinique is the first cosmetics brand in the segment of high-quality products developed by dermatologists. Clinique's products are allergy-tested and completely fragrance-free, as fragrances can often trigger contact dermatitis. Every Clinique product undergoes rigorous testing before it is launched onto the market. Each product is tested twelve times on 600 different test subjects, resulting in a total of 7,200 tests. If just one of these tests produces skin irritation in a test subject, the product is revised. This is the Clinique philosophy.
As a brand of the Estée Lauder Companies, Clinique is also committed to the company's values. Estée Lauder's values inspire the company to act responsibly and build a sustainable business based on ethics, integrity, fairness, diversity and customer confidence.
Clinique: a big brand with many products.
If you take a closer look at the Clinique product world, you will find a whole range of popular product lines. These include Clinique Even Better Makeup, Chubby Stick lip treatment with sheer colour and great coverage, Moisture Surge Skin Fortifying Hydrator and All About Eyes Cream for smoother and more elastic skin. In addition to its large range of cosmetics and a wide variety of different product lines, the brand also offers various skincare and makeup sets filled with Clinique products.
Clinique's 3-Step Skin Care System is well known. It involves the application of three products twice a day, in steps each lasting three minutes. The first product cleanses, ensuring that the skin feels good. The second product removes skin flakes in the exfoliation step, while the third ensures that the skin is perfectly moisturised.
As already mentioned, Clinique's makeup products contain no fragrances. However, this doesn't mean that Clinique has no great-smelling products. Clinique also offers a wide range of eau de parfums, for example "Clinique Happy".
Is makeup good for the skin? Of course!
Whether mascara, eye shadow or powder, even Clinique's liquid makeup products have been dermatologically tested. The lipsticks also contain an intensive moisturiser, while all foundations reduce lines and wrinkles – and all this without fragrance.
Clinique offers a wide variety of different products. Creams for dry skin, powders for creating a beautiful complexion and flawless foundations. Other products include Even Better Makeup with SPF, Almost Powder Makeup with SPF and a makeup remover.
Men's skin needs care too
Clinique also takes into account the skincare needs of men. The Clinique for Men range makes this possible. The range includes cleanser, exfoliator and moisturiser for skin that becomes oily quickly. All products help to mattify and refine the complexion. The face wash also preps the skin for shaving and helps to ensure a clean and even result.
Clinique's classic face soap with light foaming action is perfect for use in the shower and leaves the skin smooth and refreshed.