Article successfully added.
Clarins Men - Active Hand Care
Brand:
Clarins
|
Order number:
13025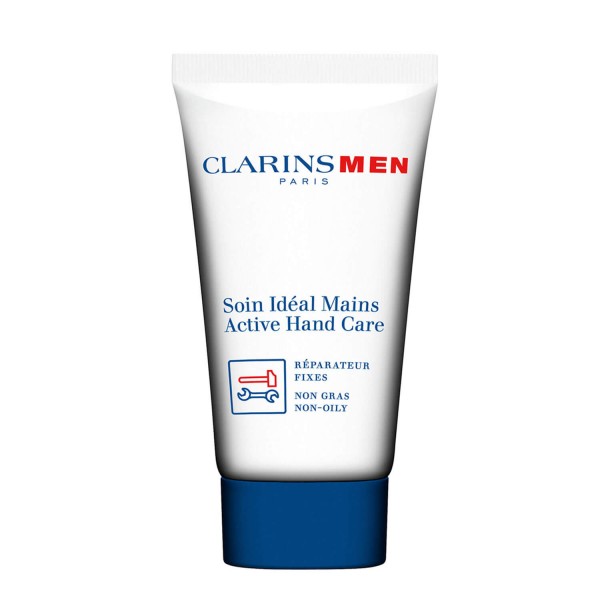 CHF23.85 *
CHF26.50 *
(10% saved)
Prices incl. VAT plus shipping costs
Ready to ship today,
Delivery time appr. 1-3 workdays
A man's hands can get good and gritty leading to dry cuticles, redness and painful chapping....
more
"Clarins Men - Active Hand Care"
A man's hands can get good and gritty leading to dry cuticles, redness and painful chapping. This non-oily cream - with Pro-vitamin B 5, Allantoin and Purslane - soothes roughness and irritations caused by work, workouts and harsh weather. The first hand care treatment formulated specifically for men.
Directions of use
May be used any time of the day, as often as necessary. Apply a small amount to clean, dry hands and gently massage until completely absorbed.
Related links to "Clarins Men - Active Hand Care"
Read, write and discuss reviews...
more
Folgende Infos zum Hersteller sind verfübar......
more
Clarins
Clarins: ein Familienunternehmen für die Schönheit
Clarins ist eine Marke der Clarins-Gruppe. Ihre Geschichte beginnt 1954. Damals eröffnete Jacques Courtin-Clarins sein erstes Schönheitsinstitut in Paris. Clarins ist heute eine Marke für Make-Up, Pflegeprodukte für Körper und Gesicht, Männer- und Sonnenpflege, sowie Wohlfühlbehandlungen. Und bis heute ist die Marke eng mit der Familie Clarins verbunden.
Natürliche Aktivstoffe synthetischen Stoffen vorzuziehen, wann immer sie die gleiche Wirkung erzielen, gehört zu den goldenen Regeln der Marke Clarins.
Clarins: eine Marke, eine Familie.
Clarins ist die Erfolgs-Story einer aussergewöhnlichen Familie. Bei Clarins werden nicht nur einzigartige Pflegeprodukte von Generation zu Generation weiterentwickelt, sondern auch die Passion für Schönheit wird weitergegeben.
Zwischen 1984 und 2008 war Clarins an der Börse notiert. Seit 2008 befindet sich das Unternehmen wieder im Familienbesitz. Das Unternehmen Clarins bezeichnet sich selbst stolz als ein "verantwortungsbewusstes Kosmetikunternehmen". Bei jedem Inhaltsstoff achtet Clarins auf grösste Rücksicht auf die Biodiversität des Planeten.
Entwickelt und produziert werden Clarins Produkte in Frankreich. Verkauft werden sie aber weltweit. Clarins Produkte erhalten Sie auch hier auf PerfectHair.ch.
Natürliche Inhaltsstoffe gehen vor
Clarins nutzt für seine Produktformeln mehr als 250 Pflanzenextrakte, die wegen ihrer Wirksamkeit sorgfältig ausgesucht wurden. Zu den wichtigen pflanzlichen Inhaltsstoffen, die in einigen Clarins Produkten enthalten sind, zählen beispielsweise Kiwi, Rosskastanien, Affenbrotbaum (Baobab) und Frauenmantel. Neben der Natürlichkeit vieler Inhaltsstoffe gehören der Respekt und ein offenes Ohr für die Kundinnen sowie Respekt gegenüber allen MitarbeiterInnen zum Erfolgsrezept von Clarins. Nicht zuletzt setzt Clarins (wann immer möglich) auf Fair Trade mit langfristigen Partnerschaften.
Zahlreiche Hautpflegeprodukte
Bei Clarins erhalten Sie zahlreiche Hautpflegeprodukte wie spezielle Feuchtigkeitsspender für die Haut, Anti-Age- und Hautstraffungsprodukte. Zu den besonders beliebten Clarins-Produkten gehören der "Kiss & Cheek - Joli Baume" Lippenpflegestift sowie die "Eau de Jardins" Produktreihe. Zu ihr gehören ein Eau de Toilette, eine Körpercreme und ein als ph-neutrales Dusch- und Badegel.
Ebenfalls ein begehrtes Clarins Produkt ist die Gel-Creme Body-Fit für eine glatte, vitalisierte und optimal mit Feuchtigkeit versorgte Haut: Dank ihr lassen sich auch Cellulite und Dellen an Oberschenkeln, Hüften und Gesäss verringern. Viele Clarins Produkte zur Haut- und Körperpflege sowie Clarins Make-up finden Sie hier auf PerfectHair.ch.