Article successfully added.
Kerasilk Reconstruct - Conditioner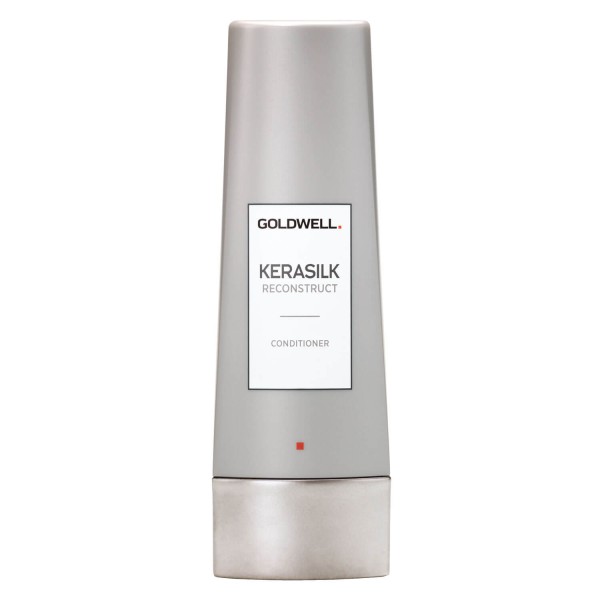 CHF30.60 *
CHF34.00 *
(10% saved)
Prices incl. VAT plus shipping costs
Ready to ship today,
Delivery time appr. 1-3 workdays
Conditioner with Keratin and Hyaloveil™ for stressed and damaged hair. Directions of use...
more
"Kerasilk Reconstruct - Conditioner"
Conditioner with Keratin and Hyaloveil™ for stressed and damaged hair.
Directions of use
Apply to wet hair, distribute evenly and leave in for two to three minutes. Rinse thoroughly.
Result
Nourishes, softens and conditions.
Related links to "Kerasilk Reconstruct - Conditioner"
Read, write and discuss reviews...
more
Folgende Infos zum Hersteller sind verfübar......
more
Goldwell
Goldwell: mit Leidenschaft für schönes Haar.
Wir teilen deine Leidenschaft für schönes Haar. We think stylist. Das sind Botschaften der Marke Goldwell an die CoiffeurInnen dieser Welt. Und es sind Botschaften, die auch ausserhalb der Branche verstanden werden. Das Goldwell Produktportfolio unterteilt sich in die Bereiche Color, Care, Styling und Smoothing (für geschmeidig weiches Haar). Lernen Sie Produkte wie Lagoom Jam, Ultra Volume oder Just Smooth kennen. Wo? Hier auf PerfectHair.ch.
Goldwell: eine Marke von Kaō
Goldwell gehört heute zum japanischen Unternehmen KAO, das mit zehn Marken in 22 Ländern aktiv ist und dabei über 3.500 Mitarbeitende beschäftigt.
Die Wurzeln von Goldwell reichen zurück bis ins Jahr 1948. Damals gründete Erich Dotter, eigentlich ein Textilverkäufer, in Darmstadt (Deutschland) die Firma Goldwell Fabrikate und produzierte exklusiv für CoiffeurInnen fortschrittliche, pflegende Produkte. 1958 expandierte das Unternehmen erstmals ins Ausland: nach Grossbritannien. Und 1979 ging es über den Atlantik nach Kanada. Die USA folgten 1982. Die Partnerschaft mit KAO begann im Jahr 1989. Damals hielt KAO einen Anteil von 75% an Goldwell. Dieser Anteil wurde 1994 auf 100% gesteigert.
Eins der ethisch vorbildlichsten Unternehmen der Welt
KAO wurde im März 2015 zum neunten Mal in Folge zu einem der ethisch vorbildlichsten Unternehmen der Welt gekürt. Innovation und Nachhaltigkeit gehen bei KAO Hand in Hand. Wir arbeiten daran, den Umwelteinfluss unserer geschäftlichen Aktivitäten während des gesamten Produktzyklus zu verstehen und zu reduzieren, schreibt das Unternehmen zum Thema Nachhaltigkeit. Das alles ist etwas, was ebenso für die Marke Goldwell gilt.
Willkommen in der Goldwell Produktwelt
Zu den Goldwell Produktlinien gehören beispielsweise die Kerasilk Haarpflegeprodukte. Goldwell arbeitet hier mit exklusiven Technologien aus der Goldwell Forschung und bietet Produkte mit hochwertigen Inhaltsstoffen, die aktiv auf die Haarstruktur einwirken. Eine Produktlinie wie Kerasilk Control dient der Formkontrolle für widerspenstiges Haar und macht es weich wie Seide.
Das Topchic Farbsystem von Goldwell ist eine Produktlinie zur Färbung der Haare: Sie bietet 100% Grauabdeckung und liefert "brillante, intensive Farben voller Leuchtkraft". Ebenfalls bekannt ist die Produktlinie Dualsenses. Sie umfasst beispielsweise die Color und Color Extra Rich Produkte für colorierte Haare sowie Pflegeprodukte für welliges und lockiges Haar. Lernen Sie die Goldwell Produkte hier auf PerfectHair.ch kennen.