Article successfully added.
MM Specialists - Volume Anti-Oil Hair Powder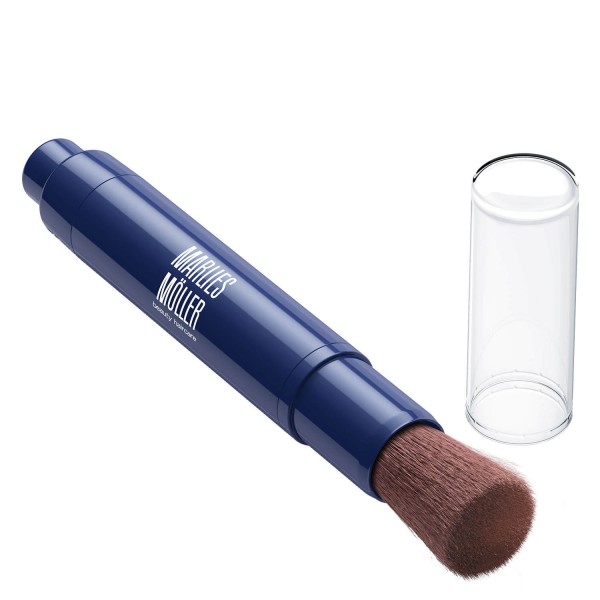 Discover your new favorite product for freshening up your look for in-between times and on the...
more
"MM Specialists - Volume Anti-Oil Hair Powder"
Discover your new favorite product for freshening up your look for in-between times and on the move. For new volume on the hairline, to make greasy hairline matt and as a dry shampoo the ideal travel companion!This appealingly fragrant powder with ultrafine texture coats the hair with pure silk. The oily scalp now becomes matt. The hairline receives fresh volume. Invisible, weightless and splendidly soothing.
Directions of use
Hold the brush downwards, with your thumb click on the button until the powder becomes visible in the brush. Make parting after parting in your hair and apply to the hairline with the aid of the brush, then gently massage in with your fingers and fluff up. FINISHED! No rinsing out / brushing necessary. Use only on dry hair. To put the cap on, slide the movable neck over the brush and then simply put the cap on. Click!
Result
Immediately matted, Immediately freshened up, Immediately volumized.
Related links to "MM Specialists - Volume Anti-Oil Hair Powder"
Read, write and discuss reviews...
more
Customer evaluation for "MM Specialists - Volume Anti-Oil Hair Powder"
From:
Anastasia
On:
29 Mar 2018
For very little dirty hair
Pretty useless against dirty hair, useful only if your hair got dirty from running or some light sport, but not against dirt which occurred over night.
Folgende Infos zum Hersteller sind verfübar......
more
Marlies Möller
Marlies Möller: Erfolgreiche Coiffeuse, berühmte Marke!
Die aus Hamburg stammende Marlies Möller gehört nicht nur in Deutschland, sondern international zu den Top-Stylistinnen. In Hamburg unterhält sie drei Salons, weitere gibt es in Düsseldorf, Hannover und Palma de Mallorca. Aber Marlies Möller ist längst auch eine Marke für sehr gute Haarpflegeprodukte und Bürsten. Hier auf PerfectHair.ch erhalten Sie viele dieser hervorragenden Marlies Möller Produkte.
Vom kleinen Salon zum grossen Unternehmen
1962 eröffnete Marlies Möller ihren ersten Salon in Hamburg. Etwa 100m² gross war dieser. In der Folgezeit kamen neue Salons dazu. Und grössere. Der Marlies Möller Salon am neuen Wall in Hamburg ist sogar über 1.000m² gross und (wie die anderen Salons) nicht nur ein Coiffeursalon, sondern darüber hinaus eine gute Adresse für alle, die eine professionelle Pediküre oder Kosmetikbehandlung oder aber ein Profi-Make-Up haben möchten.
Mittlerweile betreibt Marlies Möller nicht nur weitere Salons, sondern widmet sich einem weiteren Geschäftszweig: dem Verkauf der Marlies Möller Produkte. Dazu zählen Haarpflege-Produkte wie Shampoos, Conditioner und Repair-Oil, aber auch Profikämme und -bürsten.
Brillant: Haarpflege von Marlies Möller
Premium-Haarpflege, die von einer Frau für Frauen entwickelt wurde: So nennt Marlies Möller selbst ihre Marke Marlies Möller beauty haircare und verspricht "ein hocheffizientes System für Reinigung, Pflege und Styling". Entscheiden können Sie sich beispielsweise für eine exzellente Marlies Möller Kombination aus Shampoo und Spülung, die einen faszinierenden Glanz ins Haar bringt, für eine Haarkur mit Langzeiteffekt, ein pflegendes Marlies Möller Brilliance Colour Shampoo sowie ein belebendes Shampoo mit wertvollem Algenextrakt.
Bürsten: handgefertigt.
Zum Marlies Möller Sortiment gehören neben Haarpflegeprodukten Kämme und handgefertigte Profi-Bürsten. Marlies Möller hat sehr edle Bürsten entwickelt, die die Haare entwirren und die Kopfhaut zugleich reinigen, massieren und vitalisieren. Es gibt effektive Reinigungsbürsten für trockenes Haar von Marlies Möller, eine Rundbürste mit Ionentechnologie sowie den Allround-Kamm für Styling und Kämmen von langem, krausem, natur- oder dauergewelltem Haar.
Luxuriöse Produkte für Männer? Hat Marlies Möller auch!
Marlies Möller bietet aber nicht alleine Haarprodukte für Frauen. Es gibt zusätzlich eine kleine Anzahl ebenso luxuriöser Produkte für Männer. Zu ihnen gehört das Marlies Möller Unlimited Luxusset mit Strengthening Shampoo und Constructing Gel. Schauen Sie sich um im Marlies Möller Sortiment auf PerfectHair.ch. Es erwarten Sie viele attraktive Marlies Möller Produkte.