Article successfully added.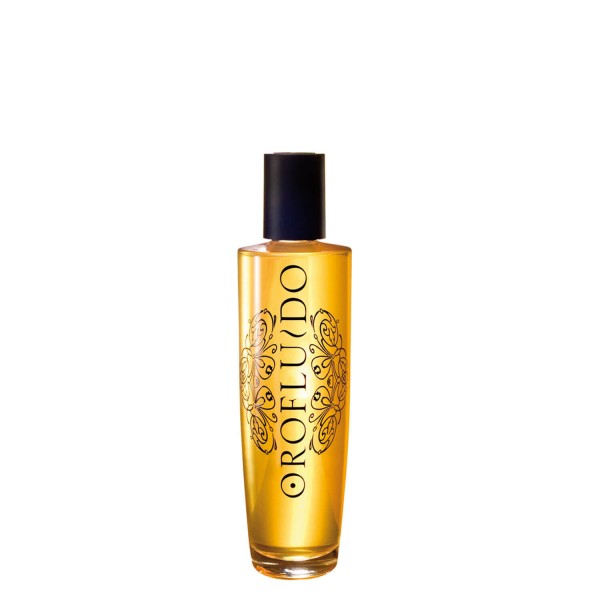 CHF20.65 *
CHF29.50 *
(30% saved)
Prices incl. VAT plus shipping costs
Ready to ship today,
Delivery time appr. 1-3 workdays
Beauty elixir for all hair types, with a pure luxuriance that envelops your hair. Three organic...
more
"Orofluido Original - Beauty Elixir"
Beauty elixir for all hair types, with a pure luxuriance that envelops your hair. Three organic natural oils in a exquisite mixture with a pleasant, silky texture, absorbed rapidly and leaving no residue in the hair. Its delicious amber fragrance with a vanilla foundation will transport you into a fascinating world of oriental perfum.
Directions of use
Applied to damp and dry hair.
Result
Applied to damp hair: Reduces drying time, leaves hair light, silky and easy to comb, gives hair body and movement, enances the natural shine of the hair.Applied to dry hair : Gives hair instant shine, controls frizzing and makes combing easier, leaves hair soft, disciplined and flexibel.
Related links to "Orofluido Original - Beauty Elixir"
Read, write and discuss reviews...
more
Customer evaluation for "Orofluido Original - Beauty Elixir"
From:
Romeral Véronique
On:
1 Jun 2019
From:
Claudia Fehr
On:
4 Jan 2019
Königlich ?
Einfach wow. Als mein Haar noch blondiert war habe ich es immer nach dem waschen ins feuchte Haar getan, danach hatte ich seidiges Haar zum kämmen tip top. Nun benutze ich es meist im trockenen, braunen Haar und bekomme somit ein top glanz. Bekam gerade wieder eins zur Weihnachten, da es auch mein Ehemann immer mal wieder benutzt. Die Haare bekommen einen erfrischenden Duft.
From:
De Simone Giovanna
On:
27 Mar 2018
From:
Anja Oestreich
On:
7 Mar 2018
Für meine Naturkrause das perfecte Haaröl :-)
From:
Frédéric Dupasquier
On:
22 Feb 2018
From:
Svenja Geissmann
On:
11 Feb 2018
Das produkt OROFLUIDO macht das Haar so geschmidig und glänzend, da hat es sich einen richtig glänzenden Sieg verdient!
From:
Tamara
On:
9 Feb 2018
Ich liebe den Duft! Pflegt die Haare ohne dass die Haare fettig wirken.
From:
Steiner Daniela
On:
7 Feb 2018
From:
Gabriela Lutz
On:
6 Feb 2018
Es duftet unglaublich gut!
From:
FERREUX
On:
6 Feb 2018
produits non gras nourisant sans graisser odeur tres agreable
From:
Elly Meichtry
On:
2 Feb 2018
Mein langes blondes Haar bleibt geschmeidig.
From:
Alexia
On:
1 Feb 2018
Sent très bon, et hydrate bien le cheveux!
From:
Ruppen Claudine
On:
31 Jan 2018
Parce que il est le meilleure
From:
Konrad Isabella
On:
31 Jan 2018
Preis-Leistung sind PERFEKT
From:
ulmann
On:
31 Jan 2018
Super Haaröl, super Preis.
From:
Nancy Calimbo
On:
31 Jan 2018
Weil es super gegen trockene Spitzen hilft, ohne die Haare fettig wirken zu lassen und zudem einen wunderbaren Duft hat. Die Präsentation im Glasfläschchen ist ausserdem sehr edel.
From:
Marion
On:
31 Jan 2018
Plegt die Haare ohne das sie fettig oder strähnig aussehen. Die Haare fallen schön locker. Zudem riecht es wirklich edel.
From:
Jelena
On:
31 Jan 2018
Super Duft, super Pflege!
From:
Julia Wiss
On:
31 Jan 2018
From:
Claudia Perner
On:
31 Jan 2018
Duftet herrlich fein, macht das Haar glänzend und gibt im Feuchtigkeit
From:
Chris Möschinger
On:
30 Jan 2018
From:
beyeler
On:
30 Jan 2018
From:
Deborah
On:
30 Jan 2018
Weil es hält, was es verspricht
From:
Sara Lustenberger
On:
30 Jan 2018
Verleit dem Haar Feuchtigkeit und Glanz ohne es zu beschweren, zudem duftet das Öl elegant.
From:
roland
On:
30 Jan 2018
es ist das günstigste auf der liste!
From:
Delnon
On:
30 Jan 2018
Weil es eins der aller besten und günstigen Haaröle ist und auch hält was es verspricht.
From:
Suzan
On:
30 Jan 2018
From:
Marina G.
On:
30 Jan 2018
Il est parfait pour réparer les cheveux secs.
From:
Bauhofer
On:
19 Dec 2017
Genial
Ich brauche nur nur dieses Öl es ist genial
From:
Sara
On:
1 Apr 2016
herrlicher Geruch
Ich liebe dieses Haaröl, es ist angenehm im Geruch und ist recht ergiebig. Trotzdem ist das Öl leider eher teuer. Ich habe viel und dickes Haar und schon eine kleine Menge reicht für einen schönen Glanz und für die Pflege gegen trockenes Haar.
From:
Claudia R.
On:
11 Aug 2015
macht leider die Haare fettig
Das Produkt wäre sehr gut. Die Haare glänzen schön und es richt lecker. Jedoch sehen meine Haare ziemlich fettig aus und die Haare sind nicht mehr luftig. Deswegen ist es nichts für mich. Schade....
From:
Andrea A.
On:
3 Aug 2015
Ideal auch für feines Haar
Ich habe langes, sehr feines Haar, das nach dem Waschen - trotz Conditioner - leider sehr strubbelig und verknotet ist. Ich trage es auf dem handtuchtrockenen Haar nur auf den Längen auf und dann kann ich die Haare wunderbar durchkämmen. Das Öl beschwert nicht, die Haare fühlen sich wunderbar geschmeidig an, glänzen und duften traumhaft! Mein absolutes Lieblingshaaröl!
From:
Sarah C.
On:
3 Dec 2014
Gold für geschmeidige Haare
Dieses Öl ist eher dickflüssig und perfekt für trockene, dicke und strohige Haare. Einmal benützt und ich spüre den Unterschied im Vergleich zu anderen Ölen! Es riecht zudem herrlich frisch und dezent nach Vanille. 100% Weiterempfehlung!
From:
Nicole G.
On:
15 May 2014
merveilleux
vraiment super ! cheveux comme réparé en plus ça sent super bon !
From:
Bettina
On:
11 Apr 2014
Wunderschöner Glanz
Dieses Öl schafft es mit ganz einer kleinen Menge die Haare zu pflegen und den gewünschten Finish zu erhalten.
From:
danielle
On:
12 Mar 2014
cette huile est super
j'aime son odeur, texuture huile ne laisse pas le cheveu gras pénetre rapidement et aide vraiment au séchage du cheveu et c'est une aide précieuse au brosching et laisse le cheveu souple et brillant je recommande ce produit
From:
Dane B.
On:
7 Jan 2014
Wunderöl
Ich habe dieses öl verwendet und war sehr zufrieden damit.
Es riecht sehr gut (Vanille) und verleiht dem Haar einen schönen Glanz , ausserdem hat man nie das Gefühl dass sie fettig sind oder aussehen!
Ich kann es nur weiterempfehlen.
From:
Anja K.
On:
14 Nov 2013
ein muss:)
Ich habe gewellte Haare. Das Öel verwende ich nach jedem waschen auf das handtuchtrockene Haar auf- Vorsicht es braucht nur wenig! Meine Haare sind seit dem glänzender, feiner und nicht mehr trocken. Meine Haare sind süchtig nach dem Öel;) ist einfach Super!! p.s. kommt auch als Geschenk gut an...
From:
Sandra
On:
19 Oct 2012
Macht das Haar unglaublich glänzend und glatt
Das Öl gibt meinem Haar, vor allem den Spitzen ein unglaublich glänzendes und seidiges Finish. Ausserdem ist es sehr ergiebig. Ein kleiner Klecks in den Handflächen verteilen und in die trockenen Spitzen kneten und fertig.
From:
Lockenkopf
On:
17 Jul 2012
zaubert schöne geschmeidige Haare
Dieses Öl macht die Haare wunderbar geschmeidig, gepflegt und glänzend! Es ist super für trockenes Haar geeignet. Gegen fliegende Haare oder für mehr Glanz kann es auch ins tockene Haar gegeben werden. Für schulterlanges Haar reichen schon einige Tropfen. Es ist die günstigere Variante zu anderen Haarölen, aber die Wirkung ist genau so gut; ich kann es wirklich nur empfehlen!
From:
natascha s.
On:
28 Jun 2012
super öl
sehr gutes öl, für trockene glanzlose haare.
kann im feuchten haar vor dem föhnen und im trockenen haar als finish benutzt werden.
das öl fettet nicht und beschwert auch nich, deshalb auch für feine haare gut geeignet.
aber ACHTUNG: wenig verwenden, es ist trotzdem öl!!
From:
Mara B.
On:
9 Jul 2011
Magnifique!
Sent divinement bon, et laisse une subtile odeur jusqu'au prochain lavage!
Pas d'effet gras, si dosé correctement.
Lisse les cheveux, fais briller.
From:
Carol M.
On:
30 Jun 2011
Haar Oel
Dieses Produkt ist eher für dichtes, dickes Haar da es etwas dickflüssiger ist. All in all aber ein gutes und nicht fettendes Haaröl, duftet toll, ist pflegend und wird schnell absorbiert.
Da die Flasche aus Glas ist, ist es sinnvoll einen Plastikbehälter zu organisieren (z.B. für die Reise etc.).
From:
Martina T.
On:
26 Apr 2011
Haar Öl
Fein Duftendes Öl. Ich habe es auf das trockene Haar verwendet. Man muss aufpassen, dass man nicht zu viel nimmt sonst wirken die Haare schnell fettig.