Article successfully added.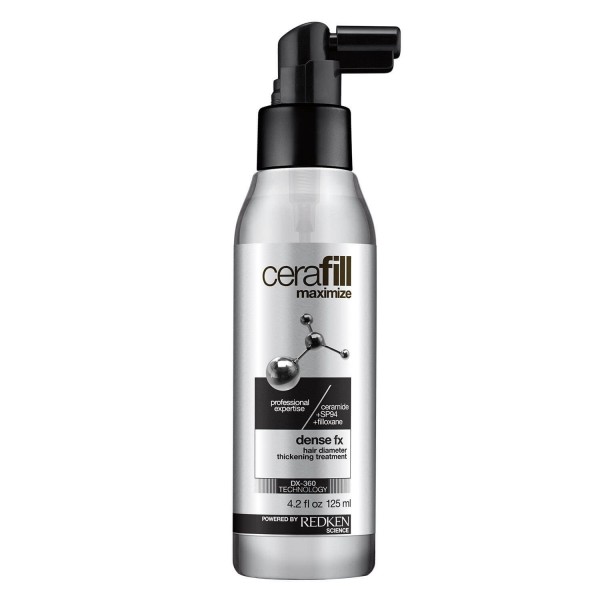 Cerafill Maximize - Dense FX: Hair Diameter thickening treatment for all hair types. Plumps up...
more
"Cerafill Maximize - Dense FX"
Cerafill Maximize - Dense FX: Hair Diameter thickening treatment for all hair types. Plumps up existing hair to increase diameter by 9%. It's like gaining up to 9,000 more hairs after one use!* (*based on an increase in the diameter of existing hairs) Instantly plumps each strand to create fullness and density. Strengthens hair fiber to prevent breakage and nourishes to promote a healthy scalp. Safe for color and chemically treated hair.
Directions of use
Apply to hair beginning at scalp in sections. Massage gently at the roots. Do not rinse. Style as usual. For optimalresults, reapply once hair is 60-80% dry. Use after other Cerafill products including Minoxidil and Defy Scalp Engerizing Treatment.
Result
Strengthens, stimulates, and nourishes so hair looks and feels fuller.
Related links to "Cerafill Maximize - Dense FX"
Read, write and discuss reviews...
more
Customer evaluation for "Cerafill Maximize - Dense FX"
From:
Karin
On:
20 Jun 2020
Gibt tolles Volumen, mag den Geruch nicht
Das Spray gibt wirklich tolles Volumen, ob es das Haarwachstum stärkt kann ich nach ein paar Anwendungen natürlich noch nicht sagen. Es ist einfach ziemlich dickflüssig und lässt sich dadurch nicht fein dosiert auftragen, dadurch braucht man ziemlich viel bis alle Haare erreicht sind, was bei dem Preis schon etwas abschreckend ist. Ausserdem finde ich den Geruch des Sprays (wie von der ganzen Cerafiil-Linie) nicht besonders angenehm.
Folgende Infos zum Hersteller sind verfübar......
more
Redken
Redken: the actress and the chemist
Redken is the abbreviated form. To those who prefer the longer name, the brand is "Redken 5th Avenue NYC". Founded in 1960 by actress Paula Kent and hairdresser and chemist Jheri Redding, the brand had belonged to the L'ORÉAL Group since 1993 when it was merged with the brand 5th Avenue NYC. Redken offers its customers hair care and styling products. Today, Redken products are available in more than 50 countries worldwide (as of August 2017) including Switzerland: for example, right here on PerfectHair.ch.
Redken: a brief history
Paula Kent, who later changed her name to Paula Jane Meehan, is said to have had the idea to found Redken in the 50s. She realised that the hair-care and styling products available on the market at the time were not suited to her styles. This led her to inspire her business partner Jheri Redding to create products that lived up to her expectations. Redken was born. The company name comes from the first three letters of the founder's surnames Redding and Kent (RedKen).
Redken aims to impress not only with its product quality: the brand also wants to give hairdressers the opportunity to "learn better, earn better and live better" with innovative products and "one of the leading training platforms in the industry". The training programmes on the Platform are just one way of doing this. According to L'Oréal, Redken is characterised by "talented employees, strong partnerships with the best hairdressers and outstanding research and innovation".
Welcome to the world of Redken products
A special feature of Redken products for hair care and styling is the protein technology with its skin and hair-friendly pH value. The most well-known Redken products today include the All Soft care system with argan oil and omega-6 for particularly fine hair, the Color Extend Magnetics care system with amino ions to fortify and repair hair as well as the Scalp Relief "against sensitive, flaky and oily scalps".
Redken products are available for fine, stressed, oily, dry, coloured, normal, smooth, silky, dull and other hair types. There are Redken products which provide intense shine, more volume or moisture, as well as those which protect against frizz and dandruff. In addition, Redken offers products for grey coverage and hair rejuvenation. These and many more Redken products for beautiful hair can be found here at PerfectHair.ch. See for yourself!