Article successfully added.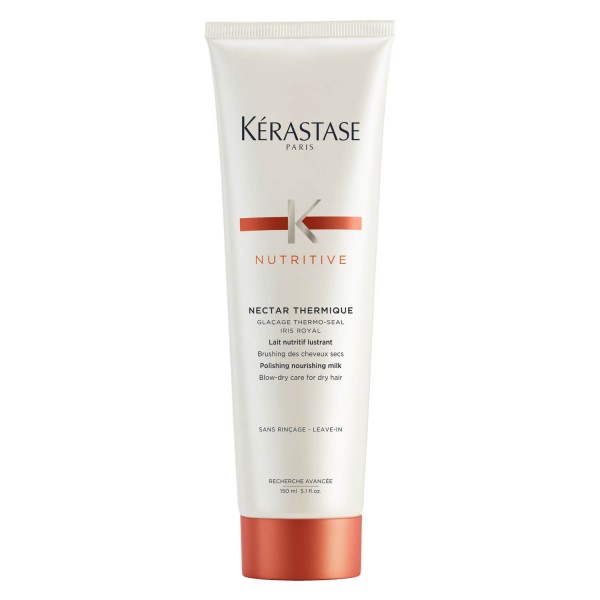 CHF29.25 *
CHF39.00 *
(25% saved)
Prices incl. VAT plus shipping costs
Ready to ship today,
Delivery time appr. 2-5 workdays
Nectar Thermique care protects dry hair from the aggressions of blow-dry and makes hair easier...
more
"Nutritive - Nectar Thermique"
Nectar Thermique care protects dry hair from the aggressions of blow-dry and makes hair easier to style. It instantly polishes hair surface for a double anti-roughness/anti-dullness action while hair fiber is deeply nourished. Hair is left shine with a perfect glazed-like finish.
Directions of use
Apply a chestnut-sized quantity of Nectar Thermique on shampooed towel-dried hair and massage onto the lengths and ends. Proceed to blow-dry using a hair-dryer or heated styling appliance. Leave-in.
Result
Protection, shine and a perfect glazed-like finish.
Ingredients
Glaçage Thermo-Seal smooths hair and adds shine, makes hair easier to style. Siccative linseed oil: a multidirectional varnish that spreads all along the hair fiber for an intense shine and smoothness. Iris Royal Complex detects and nourishes the driest zones of the hair and infuses micro-nutrients all along the fiber, preventing it from drying out. Xylose active ingredient known for its heat protecting properties.
Related links to "Nutritive - Nectar Thermique"
Read, write and discuss reviews...
more
Customer evaluation for "Nutritive - Nectar Thermique"
From:
Nadine
On:
1 Oct 2019
Frizz Adée, Glanz Ahoi
Frizz und Trockenheit adée. Bereits nach erster Anwendung ein grosser Unterschied bemerkbar in den Haaren. Sie werden nach dem Föhnen gesund und glänzend und absolut nicht strohig. Auf meinem gelockten/gewellten Haar kann ich die Creme auch gut ohne Hitzestyling benutzen um den trockenen Spitzen entgegen zu wirken. Top:-))
From:
Jawa
On:
19 Aug 2019
Unschlagbar
Wende das Leave-in auch an ohne dass ich danach Hitze verwende. Hatte immer mit trockenem Haar und Frizz zu kämpfen, dank diesem Produkt ist meine Haaroberfläche wieder sichtlich geglättet und die Haare glänzen wieder und sehen gesund aus. Pflege meine Haarlängen- und spitzen jeweils nach der Haarwäsche damit sowie bei Bedarf noch zusätzlich. Es benötigt nur sehr wenig Produkt und erzielt aber grosse Wirkung! Sehr zufrieden
From:
Manuela
On:
6 Nov 2018
Feuchtigkeitspflege und Hitzeschutz in einem
From:
Pascale Schmid
On:
25 Aug 2018
From:
Galli Simone
On:
12 May 2018
From:
Regina
On:
28 Feb 2018
auch bei feinem Haar kann es angewandt werden, ohne die Haare zu beschweren
From:
Schwizer
On:
5 Feb 2018
Weil die Haare nachher mehr glänzen
From:
Ramirez
On:
3 Feb 2018
From:
Karin
On:
6 Jan 2018
Hitzeschutz
Bester Hitzeschutz!
From:
Marina
On:
2 Mar 2017
Hitzeschutz ohne zu beschweren
Macht das Haar geschmeidig und glättet es ohne zu beschweren
geschmeidiges Haar
Das Produkt ist nur weiterzuempfehlen. Die Haare sind super geschmeidig und es gibt keinen Frizz mehr. Zudem bleiben die Haare Tagelang so, wie man Sie geföhnt hat. Ich bin begeistert.:)
From:
Paula
On:
9 Jun 2015
Ich bleibe nicht ohne...
...diesen thermischen Schutz. Für jene die immer den Haartrockner brauchen, ist es perfekt. Es schützt nicht nur das Haar vor Wàrme, sondern spendet auch Geschmeidigkeit.
From:
Simone
On:
29 Dec 2011
mit Hitzeschutz
Macht die Haare schön weich und geschmeidig. Schützt die Haare vor Hitze!!!
From:
Neukom
On:
7 Mar 2011
Perfekter Glanz und Schutz vor Hitze
Meine Haare glänzen so wunderschön und sind weich!!!