Article successfully added.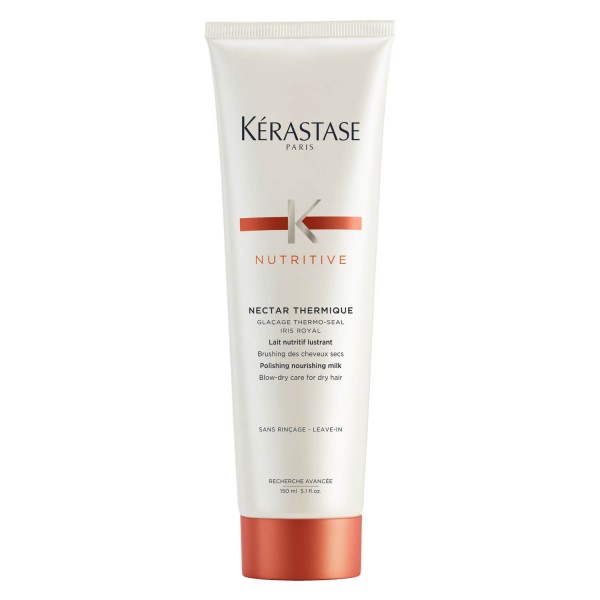 CHF31.20 *
CHF39.00 *
(20% saved)
Prices incl. VAT plus shipping costs
Ready to ship today,
Delivery time appr. 1-3 workdays
Nectar Thermique care protects dry hair from the aggressions of blow-dry and makes hair easier...
more
"Nutritive - Nectar Thermique"
Nectar Thermique care protects dry hair from the aggressions of blow-dry and makes hair easier to style. It instantly polishes hair surface for a double anti-roughness/anti-dullness action while hair fiber is deeply nourished. Hair is left shine with a perfect glazed-like finish.
Directions of use
Apply a chestnut-sized quantity of Nectar Thermique on shampooed towel-dried hair and massage onto the lengths and ends. Proceed to blow-dry using a hair-dryer or heated styling appliance. Leave-in.
Result
Protection, shine and a perfect glazed-like finish.
Ingredients
Glaçage Thermo-Seal smooths hair and adds shine, makes hair easier to style. Siccative linseed oil: a multidirectional varnish that spreads all along the hair fiber for an intense shine and smoothness. Iris Royal Complex detects and nourishes the driest zones of the hair and infuses micro-nutrients all along the fiber, preventing it from drying out. Xylose active ingredient known for its heat protecting properties.
Related links to "Nutritive - Nectar Thermique"
Read, write and discuss reviews...
more
Customer evaluation for "Nutritive - Nectar Thermique"
From:
Cristina
On:
16 Oct 2020
Super
Ich liebe die Geschmeidigkeit nach denn Haare föhnen

From:
Lisa
On:
13 Oct 2020
zufrieden
spendete viel Feuchtigkeit

From:
Lisa
On:
12 Oct 2020
From:
nepe
On:
7 Oct 2020
einzigartig
wir bestellen nur noch diese produkte , sie sind perfekt auch für blondiertes haar!

Nutritive-nectar thermique
Sehr gute produkt

From:
Selina
On:
6 Oct 2020
Sehr angenehmer Geruch.
Sehr angenehmer Geruch. Die Haare fühlen sich danach sehr weich und gestärkt an.

From:
Laila
On:
2 Oct 2020
From:
Laila
On:
2 Oct 2020
From:
Besmira
On:
2 Oct 2020
Parfait
Nourrit les cheveux très doux

From:
Yasmine
On:
1 Oct 2020
Très bon produit
J'utilise toute la gamme Nutritive, Shampooing, masque et le soin Nectar Thermique avant le brushing. J'adore son odeur, il n'alourdit pas les cheveux, il les nourrit en profondeur et ils sont brillants

From:
Mégane
On:
1 Oct 2020
Ça a révolutionné mes cheveux !
Produits extraordinaires ! Mes cheveux blonds décolorés revivent !!!

From:
Natalia
On:
30 Sep 2020
Brillance
Excelente!!! Les cheveux brillent et t sont doux au toucher

From:
Julissa
On:
30 Sep 2020
Trockenes Haaren
Kérastase das beste

From:
Christine
On:
25 Sep 2020
Einfach wunderbar
Macht das Harr weich und glänzend - trockenes Deckhaar wird wieder glatt.... Feines Haar hält trotzdem 2 Tage durch, da die Pflege das Haar nicht beschwert

From:
Renáta
On:
23 Sep 2020
Super
Dieses Produkt macht meine Haare wirklich schön. Ich liebe es.

From:
Laetitia
On:
23 Sep 2020
Super !
A appliquer avant le brushing/lissage par plaques, les cheveux sont incroyablement doux, brillants, et sentent merveilleusement bons ! Il me semble également qu'ils restent bien lissés plus longtemps...

From:
Sonia
On:
23 Sep 2020
Douceur
Produit incroyable qui apporte une immense douceur aux cheveux! A tester !

From:
Salome
On:
21 Sep 2020
Très bien!
Sens merveilleusement bon et à aider mes cheveux à devenir moins secs

From:
Julija
On:
18 Sep 2020
From:
Desiree
On:
17 Sep 2020
einfach woow
Dieses Produkt ist einfach super für die Haare. Es repariert die Haare und gibt eine Geschmeidigkeit. Zudem riecht es super.

From:
Zoé
On:
17 Sep 2020
Masque
Parfait pour mes nourrir mes cheveux asséchés par le soleil et les séchages électriques

From:
Mariana
On:
16 Sep 2020
Le meilleur
Le meilleur des protecteur thermiques, il nourrit et protège les cheveux de toute agression extérieur

From:
Selin
On:
14 Sep 2020
Top produkt!
Sehr gute produkt, ich würde es wieder kaufen

From:
Nadine
On:
1 Oct 2019
Frizz Adée, Glanz Ahoi
Frizz und Trockenheit adée. Bereits nach erster Anwendung ein grosser Unterschied bemerkbar in den Haaren. Sie werden nach dem Föhnen gesund und glänzend und absolut nicht strohig. Auf meinem gelockten/gewellten Haar kann ich die Creme auch gut ohne Hitzestyling benutzen um den trockenen Spitzen entgegen zu wirken. Top:-))
From:
Jawa
On:
19 Aug 2019
Unschlagbar
Wende das Leave-in auch an ohne dass ich danach Hitze verwende. Hatte immer mit trockenem Haar und Frizz zu kämpfen, dank diesem Produkt ist meine Haaroberfläche wieder sichtlich geglättet und die Haare glänzen wieder und sehen gesund aus. Pflege meine Haarlängen- und spitzen jeweils nach der Haarwäsche damit sowie bei Bedarf noch zusätzlich. Es benötigt nur sehr wenig Produkt und erzielt aber grosse Wirkung! Sehr zufrieden
From:
Manuela
On:
6 Nov 2018
Feuchtigkeitspflege und Hitzeschutz in einem
From:
Pascale Schmid
On:
25 Aug 2018
From:
Galli Simone
On:
12 May 2018
From:
Regina
On:
28 Feb 2018
auch bei feinem Haar kann es angewandt werden, ohne die Haare zu beschweren
From:
Schwizer
On:
5 Feb 2018
Weil die Haare nachher mehr glänzen
From:
Ramirez
On:
3 Feb 2018
From:
Karin
On:
6 Jan 2018
Hitzeschutz
Bester Hitzeschutz!
From:
Marina
On:
2 Mar 2017
Hitzeschutz ohne zu beschweren
Macht das Haar geschmeidig und glättet es ohne zu beschweren
geschmeidiges Haar
Das Produkt ist nur weiterzuempfehlen. Die Haare sind super geschmeidig und es gibt keinen Frizz mehr. Zudem bleiben die Haare Tagelang so, wie man Sie geföhnt hat. Ich bin begeistert.:)
From:
Paula
On:
9 Jun 2015
Ich bleibe nicht ohne...
...diesen thermischen Schutz. Für jene die immer den Haartrockner brauchen, ist es perfekt. Es schützt nicht nur das Haar vor Wàrme, sondern spendet auch Geschmeidigkeit.
From:
Simone
On:
29 Dec 2011
mit Hitzeschutz
Macht die Haare schön weich und geschmeidig. Schützt die Haare vor Hitze!!!
From:
Neukom
On:
7 Mar 2011
Perfekter Glanz und Schutz vor Hitze
Meine Haare glänzen so wunderschön und sind weich!!!
Folgende Infos zum Hersteller sind verfübar......
more
Kérastase
Kérastase: world-renowned luxury hair care
Kérastase is a world-renowned luxury hair care brand. The Kérastase brand offers its customers various product ranges including Kérastase Nutritive for dry hair, Kérastase Discipline for curly and unruly hair, Kérastase Densifique for thinning hair, Kérastase Réflection for coloured hair and Kérastase Volumifique for fine hair.
Kérastase: because every woman is unique
Kérastase professional hair care is synonymous with state-of-the-art technologies, innovative formulas and the best active ingredients. With product ranges developed to suit a variety of different hair types, every woman can benefit from their own personalised beauty regime. Kérastase believes that hair is the individual expression of your personal philosophy and aims in life, and sends an important message to the world. And that's precisely why you should take good care of your hair.
"Cleanse, nourish and perfect"
Hair care at Kérastase works to a 3-step regimen: "cleanse (Bain), nourish and perfect".
Kérastase Shampoo (Bain)
In the first step of the care programme, the hair is washed with a Kérastase shampoo while massaging the scalp and stimulating blood flow. Kérastase offers special shampoos for different hair types and requirements, each with a smooth texture and delicate fragrance.
Kérastase Conditioner
In step 2, the hair is nourished with highly effective care products. The hair shape is strengthened, resulting in a lasting beautification of the hair fibres.
Kérastase Treatment
The hair is perfected in step 3 with leave-in Kérastase products, which impart shine and protect the hair during styling and blow-drying.
Kérastase: power of innovation
The history of the Kérastase brand began in 1964, when founder Francois Dall succeeded in combining science and luxury hair-care to create Kérastase. Since its inception, the brand has brought several significant product innovations to the market. In the 70s, for example, Kérastase developed Bain Divalent, a product from the Spécifique range. This balancing shampoo is perfect for oily roots and dry ends.
Kérastase began selling the first hair care mask on the market in 1980: the Masque à l'Huile de Germes de Maïs with corn oil. The remainder of the 80s brought further innovations: products from the Nutritive range were launched for the first time in 1984, followed in 1986 by the well-known Kérastase cult product Masquintense. Soleil was also launched in the 1980s. Soleil products were developed to protect hair against UV radiation.
In addition to the Kérastase product ranges already mentioned, further ranges include Blond Absolu, Aura Botanica, Chronologiste, Couture Styling, Cristalliste, Elixir Ultime, Homme Capital Force, Initialiste, Fusion Scrub, Réflection and Resistance. At Kérastase, you'll find hair care products for all hair types: in addition to normal hair, Kérastase products can be used for the professional treatment of tired, coloured, dry, thin and highlighted hair.
Kérastase product ranges
Kérastase offers the right product for your every hair care need – order online at PerfectHair.ch. Discover all Kérastase product ranges and find the right hair care products to create beautiful hair.
Kérastase Discipline
As the name suggests, Kérastase Discipline helps to tame unruly hair. Do you have rebellious, unruly hair that is difficult to comb? Then the Kérastase Discipline range is for you. The Discipline Curl Idéal range also provides optimum care for curly, voluminous hair. Kérastase Discipline tames your hair and makes frizz disappear. Intensive care for your hair.
Kérastase Nutritive
Is your hair dry and in need of nourishment? Kérastase Nutritive leaves your hair looking smooth and healthy. Kérastase's exceptional portfolio of hair care products is the ideal choice for dry and overstressed hair. Say goodbye to dry hair. Kérastase Nutritive strengthens the hair structure and makes your hair glow.
Kérastase Résistence
The Kérastase Résistance range of hair care products is perfect for damaged hair. Do you have dull or brittle hair? Does your hair lack luminosity, and do you suffer from hair breakage? Kérastase has developed the Resistance range of hair care products specifically for broken hair. Résistence products – which include a shampoo, mask, conditioner and more – repair hair fibres from the inside out, strengthening your hair and giving it more volume.
Kérastase Blond Absolu
The Blond Absolu range from Kérastase has been specifically developed for blond hair. Blond Absolu's unique feature is the combination of care and neutralization: the violet pigments have an anti-yellow cast effect on the hair, while at the same time caring for and strengthening the hair.