Article successfully added.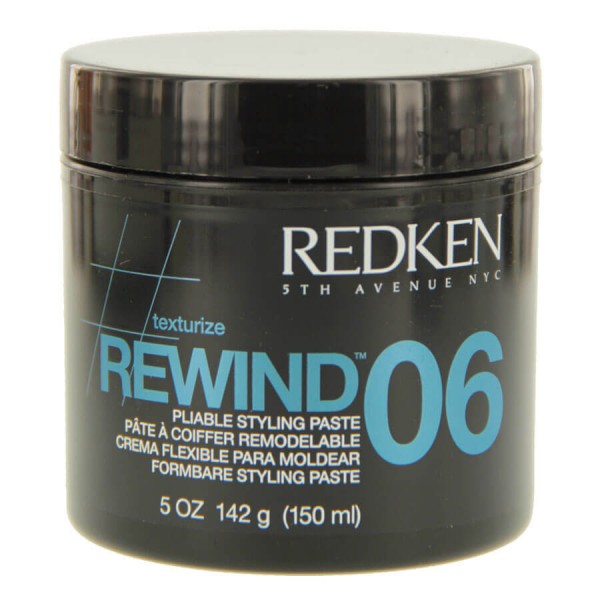 CHF27.05 *
CHF33.80 *
(19.97% saved)
Prices incl. VAT plus shipping costs
Delivery time approx. 5-10 working days
Twist, shape and texturize hair into changeable styles. Directions of use Rub a small...
more
"Redken Texture - Rewind 06 New"
Twist, shape and texturize hair into changeable styles.
Directions of use
Rub a small amount between hands and apply into damp or dry hair to form style. For support on the hair - rub product between your palms and pull your hands apart over the hair so the product fibers fall on the head. Create styles by forming, twisting, winding or rewinding hair one section at a time. Whatever look you choose, your hair will stay in place without crunchiness and you can restyle easily if you change your mind.
Result
Pliable fiber network provides a web of support with control. Creates versatile styles with strong shapes. Stays moist and flexible so you can replay or rearrange the style. Won't weigh hair down. Won't build up on hair.
Related links to "Redken Texture - Rewind 06 New"
Read, write and discuss reviews...
more
Customer evaluation for "Redken Texture - Rewind 06 New"
From:
Colette
On:
19 Jul 2019
Folgende Infos zum Hersteller sind verfübar......
more
Redken
Redken: the actress and the chemist
Redken is the abbreviated form. To those who prefer the longer name, the brand is "Redken 5th Avenue NYC". Founded in 1960 by actress Paula Kent and hairdresser and chemist Jheri Redding, the brand had belonged to the L'ORÉAL Group since 1993 when it was merged with the brand 5th Avenue NYC. Redken offers its customers hair care and styling products. Today, Redken products are available in more than 50 countries worldwide (as of August 2017) including Switzerland: for example, right here on PerfectHair.ch.
Redken: a brief history
Paula Kent, who later changed her name to Paula Jane Meehan, is said to have had the idea to found Redken in the 50s. She realised that the hair-care and styling products available on the market at the time were not suited to her styles. This led her to inspire her business partner Jheri Redding to create products that lived up to her expectations. Redken was born. The company name comes from the first three letters of the founder's surnames Redding and Kent (RedKen).
Redken aims to impress not only with its product quality: the brand also wants to give hairdressers the opportunity to "learn better, earn better and live better" with innovative products and "one of the leading training platforms in the industry". The training programmes on the Platform are just one way of doing this. According to L'Oréal, Redken is characterised by "talented employees, strong partnerships with the best hairdressers and outstanding research and innovation".
Welcome to the world of Redken products
A special feature of Redken products for hair care and styling is the protein technology with its skin and hair-friendly pH value. The most well-known Redken products today include the All Soft care system with argan oil and omega-6 for particularly fine hair, the Color Extend Magnetics care system with amino ions to fortify and repair hair as well as the Scalp Relief "against sensitive, flaky and oily scalps".
Redken products are available for fine, stressed, oily, dry, coloured, normal, smooth, silky, dull and other hair types. There are Redken products which provide intense shine, more volume or moisture, as well as those which protect against frizz and dandruff. In addition, Redken offers products for grey coverage and hair rejuvenation. These and many more Redken products for beautiful hair can be found here at PerfectHair.ch. See for yourself!