Article successfully added.
Ecru Style - Travel Hair Dryer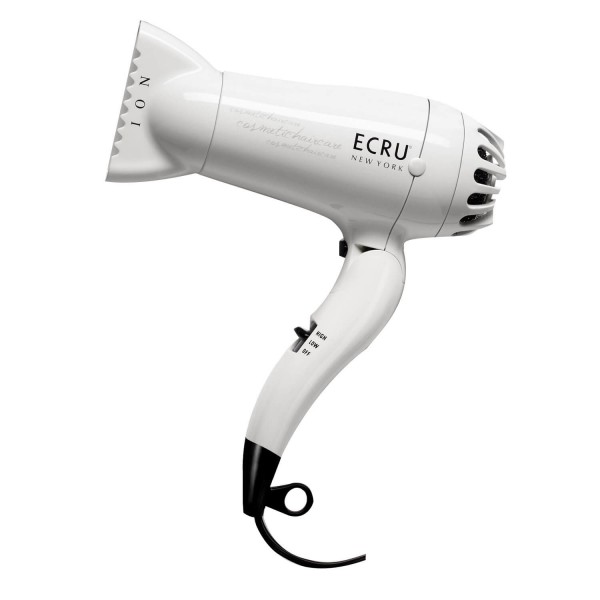 Prices incl. VAT plus shipping costs
Free of shipping costs!
Ready to ship today,
Delivery time appr. 1-3 workdays
Drying power to go! The compact Natural Ion Travel Hair Dryer gives you drying/styling power...
more
"Ecru Style - Travel Hair Dryer"
Drying power to go! The compact Natural Ion Travel Hair Dryer gives you drying/styling power wherever you go. ECRU New York's superior, patented, natural Japanese Ion Technology and Far Infrared Technology dry your hair faster without frizz. Superior Ion Technology infuses more moisture into each strand, reducing static, frizzies and fly aways, leaving hair healthier, smoother and shinier.
Related links to "Ecru Style - Travel Hair Dryer"
Read, write and discuss reviews...
more
Folgende Infos zum Hersteller sind verfübar......
more
Ecru New York
ECRU New York: Gut für die Haut ist oft auch gut fürs Haar!
"CosmeticHairCare" ist eine Wortschöpfung von ECRU New York und verdeutlicht sehr gut den Anspruch der Marke aus New Jersey. Laut eigener Angaben steht sie für Haarpflege-Produkte, die qualitativ hochwertige Inhaltsstoffe aus der Hautpflege mit der Leistung professioneller Haarpflege kombiniert. Darüber hinaus positioniert sie sich als umweltfreundliche Marke.
Ein wichtiger Inhaltsstoff in vielen ECRU New York Produkten ist Seidenprotein. Von ECRU New York erhält man heute eine Vielzahl an Lösungen für typische Herausforderungen rund um gesundes und schönes Haar: etwa das Haar pflegende und Feuchtigkeit spendende Proteinöl sowie hydratisierende Shampoos und Balsam wie das "ECRU Texture - Styling Balm".
Warum Seidenproteine gut für Haare sind
Seidenproteine sind von der Seidenraupe produzierte und zu etwa drei Vierteln aus Fibroin bestehende Proteinfäden. Bei Fibroin handelt es sich um ein wasserunlösliches Faserprotein. Eingesetzt wurde das Seidenprotein eine Zeit lang nur in hochwertigen Hautpflegeprodukten, schreibt ECRU New York. Allerdings ist es auch für Haare sehr wertvoll.
Seidenproteine bilden einen zarten Film ums Haar, ohne es zu verkleben. Sie spenden Feuchtigkeit, können das Haar vor dem Austrocknen schützen, erhalten seine Elastizität sowie natürlichen Glanz und reduzieren das Risiko von Haarschäden deutlich.
Geboren kurz vor dem neuen Jahrtausend
Entstanden ist die Marke ECRU New York 1999 auf Initiative von Carmen DePasquale. Anders als der Name vermuten lässt, handelt es sich bei Carmen DePasquale um einen Mann. Er wuchs in Peterson (New Jersey) auf und wurde nach seinem Dienst bei der US Air-Force Stylist. Heute ist er CEO und Gründer der DePasquale Companies. Eine der sieben Gesellschaften dieses Unternehmens ist ECRU New York.
ECRU ist notwendiger Luxus
Als Kultur habe man den Unterschied zwischen allem und etwas Bestimmten gelernt, heisst es auf der ECRU New York Website. Und weiter: Je weniger man braucht, desto mehr hat man. Und einige Dinge besitzen eine grössere Bedeutung als andere. ECRU New York ist solch ein rarer, notwendiger Luxus. Er kreiert Haare, die die Trends und Styles der heutigen Haardesigner willkommen heissen und die Bedürfnisse der aufmerksamen Konsumenten treffen.
Ein Blick auf die Produkte
Wie bereits geschildert, spielen Seidenproteine bei diversen Produkten von ECRU New York eine wichtige Rolle. Aber nicht nur sie. So enthält etwa die "Acacia Protein Collection"der Marke neben den Seidenproteinen unter anderem Acacia-Kollagen aus der afrikanischen Seyal-Akazie, das selbst sehr trockenes Haar rekonstruieren kann. Aus der Produktlinie gibt es ein Haaröl, ein Shampoo, eine Maske, ein Conditioner sowie eine Creme.
Auch das "ECRU Finish Silk Nectar Serum" von ECRU New York beweist, wie viel Wert das Unternehmen auf eine exzellente Mischung bester Inhaltsstoffe legt. Das Serum befeuchtet, stärkt und nährt das Haar und baut eine eventuell durch Styling und/oder V-Licht geschädigte äussere Haarschicht wieder auf. Neben Seidenproteinen enthält es beispielsweise Vitamin E als Antioxidant), Saflor-Öl und Capsicum Fruchtessenz (ein Cayennepfeffer-Extrakt). Entdecken Sie die faszinierende Welt der ECRU New York Produkte.