Article successfully added.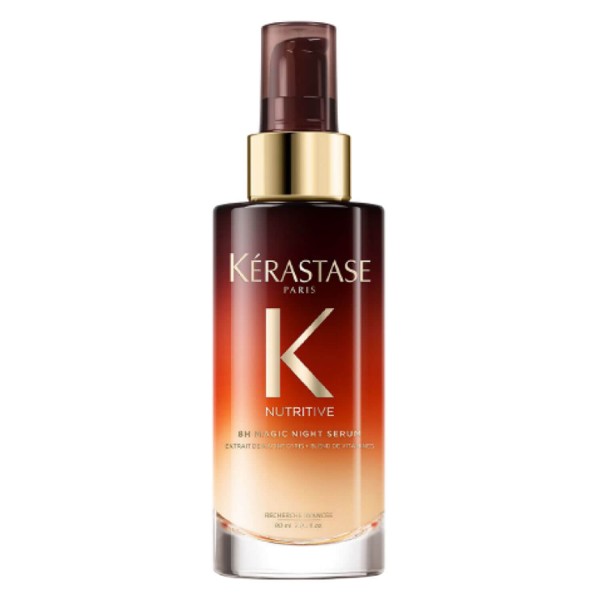 CHF54.40 *
CHF68.00 *
(20% saved)
Prices incl. VAT plus shipping costs
Ready to ship today,
Delivery time appr. 1-3 workdays
8H Magic Night Serum Nutritive von Kérastase ist ein Nachtserum für das Haar ohne Ausspülen, das...
more
"Nutritive - 8H Magic Night Serum"
8H Magic Night Serum Nutritive von Kérastase ist ein Nachtserum für das Haar ohne Ausspülen, das die Nährung aller trockenen Haartypen verbessert. Während der Nacht neigt das Haar dazu, den Tagesverlust durch Aufnahme aller Nährstoffe der Haarpflege aufzuheben. Mit Iriswurzel-Extrakt und einer Mischung aus 5 Vitaminen einschliesslich Vitamin E infundiert, dringt das Serum über 8 Stunden tief in die Faser ein und wird zu 100% absorbiert, um das Feuchtigkeitsniveau des Haares wiederherzustellen. Seine leichte, cremige Textur ist für alle Haartypen geeignet: Bei feinem Haar hilft es beim Entwirren, bei normalem oder dickem Haar sorgt es für eine bessere Handhabbarkeit. Am nächsten Morgen ist das Haar gepflegt und ist sichtbar sanfter, leichter zu stylen und mit einem leichten Satin-Finish.
Anwendung
Verwenden Sie je nach Länge und Dicke Ihres Haares 2 bis 4 Pumpstösse. Auf Längen und Spitzen anwenden. Für die Anwendung auf nassem Haar, tragen Sie es auf handtuchtrockenes Haar auf und stylen Sie sich das Haar über die Nacht wie gewünscht. Leave-in. Kein Ausspülen notwendig. Kann täglich und mit allen Linien von Kérastase angewendet werden. Professioneller-Tipp: Tragen Sie das Produkt auf, flechten Sie Ihr Haar vor dem Schlafengehen, um mit schönen Kräuselungen aufzuwachen. Für lockiges Haar wickeln Sie Ihre Locken mit den Fingerspitzen in das Produkt ein, damit die Locken beim Aufwachen klar definiert sind.
Related links to "Nutritive - 8H Magic Night Serum"
Read, write and discuss reviews...
more
Customer evaluation for "Nutritive - 8H Magic Night Serum"
From:
Sonja
On:
16 Jun 2020
Sehr zufrieden
Wundervolles Produkt! Lässt die Haare seidenweich und glänzend strahlen. Haare sind gepflegt und geschmeidig. Super!
From:
Nancy
On:
7 Jun 2020
Excelente producto deja mi cabello nutrido.
From:
Michelle
On:
9 Oct 2019
TOP
Ich kann dieses Produkt nur weiter empfehlen.
super gute und wirksame Pflege! TOP
From:
Feuz
On:
21 Jun 2019
From:
Ruth H. Bieri
On:
3 May 2019
sehr gut
War Anfangs kritisch, aber das Haar ist viel besser zu frisieren am Morgen. Auch gibt es einen schönen Glanz. Chapeau
From:
Angela
On:
5 Apr 2019
Kaufempfehlung
Überascht! Es wirkt, die Haar sind mega am nächsten morgen.
From:
Alexandra
On:
3 Apr 2019
Nacht Serum
Tolles Serum,wo die Haare nicht verkleben. Baut die Haare in der Nacht wieder auf und am nächsten Morgen sind sie weich und angenehm.Ideal für leicht verzausbare Haare. Sehr angenehmer Duft . Ein absolutes Muss Produkt für jeden;-)
Folgende Infos zum Hersteller sind verfübar......
more
Kérastase
Kérastase: world-renowned luxury hair care
Kérastase is a world-renowned luxury hair care brand. The Kérastase brand offers its customers various product ranges including Kérastase Nutritive for dry hair, Kérastase Discipline for curly and unruly hair, Kérastase Densifique for thinning hair, Kérastase Réflection for coloured hair and Kérastase Volumifique for fine hair.
Kérastase: because every woman is unique
Kérastase professional hair care is synonymous with state-of-the-art technologies, innovative formulas and the best active ingredients. With product ranges developed to suit a variety of different hair types, every woman can benefit from their own personalised beauty regime. Kérastase believes that hair is the individual expression of your personal philosophy and aims in life, and sends an important message to the world. And that's precisely why you should take good care of your hair.
"Cleanse, nourish and perfect"
Hair care at Kérastase works to a 3-step regimen: "cleanse (Bain), nourish and perfect".
Kérastase Shampoo (Bain)
In the first step of the care programme, the hair is washed with a Kérastase shampoo while massaging the scalp and stimulating blood flow. Kérastase offers special shampoos for different hair types and requirements, each with a smooth texture and delicate fragrance.
Kérastase Conditioner
In step 2, the hair is nourished with highly effective care products. The hair shape is strengthened, resulting in a lasting beautification of the hair fibres.
Kérastase Treatment
The hair is perfected in step 3 with leave-in Kérastase products, which impart shine and protect the hair during styling and blow-drying.
Kérastase: power of innovation
The history of the Kérastase brand began in 1964, when founder Francois Dall succeeded in combining science and luxury hair-care to create Kérastase. Since its inception, the brand has brought several significant product innovations to the market. In the 70s, for example, Kérastase developed Bain Divalent, a product from the Spécifique range. This balancing shampoo is perfect for oily roots and dry ends.
Kérastase began selling the first hair care mask on the market in 1980: the Masque à l'Huile de Germes de Maïs with corn oil. The remainder of the 80s brought further innovations: products from the Nutritive range were launched for the first time in 1984, followed in 1986 by the well-known Kérastase cult product Masquintense. Soleil was also launched in the 1980s. Soleil products were developed to protect hair against UV radiation.
In addition to the Kérastase product ranges already mentioned, further ranges include Blond Absolu, Aura Botanica, Chronologiste, Couture Styling, Cristalliste, Elixir Ultime, Homme Capital Force, Initialiste, Fusion Scrub, Réflection and Resistance. At Kérastase, you'll find hair care products for all hair types: in addition to normal hair, Kérastase products can be used for the professional treatment of tired, coloured, dry, thin and highlighted hair.
Kérastase product ranges
Kérastase offers the right product for your every hair care need – order online at PerfectHair.ch. Discover all Kérastase product ranges and find the right hair care products to create beautiful hair.
Kérastase Discipline
As the name suggests, Kérastase Discipline helps to tame unruly hair. Do you have rebellious, unruly hair that is difficult to comb? Then the Kérastase Discipline range is for you. The Discipline Curl Idéal range also provides optimum care for curly, voluminous hair. Kérastase Discipline tames your hair and makes frizz disappear. Intensive care for your hair.
Kérastase Nutritive
Is your hair dry and in need of nourishment? Kérastase Nutritive leaves your hair looking smooth and healthy. Kérastase's exceptional portfolio of hair care products is the ideal choice for dry and overstressed hair. Say goodbye to dry hair. Kérastase Nutritive strengthens the hair structure and makes your hair glow.
Kérastase Résistence
The Kérastase Résistance range of hair care products is perfect for damaged hair. Do you have dull or brittle hair? Does your hair lack luminosity, and do you suffer from hair breakage? Kérastase has developed the Resistance range of hair care products specifically for broken hair. Résistence products – which include a shampoo, mask, conditioner and more – repair hair fibres from the inside out, strengthening your hair and giving it more volume.
Kérastase Blond Absolu
The Blond Absolu range from Kérastase has been specifically developed for blond hair. Blond Absolu's unique feature is the combination of care and neutralization: the violet pigments have an anti-yellow cast effect on the hair, while at the same time caring for and strengthening the hair.